Methodology :: Post Launch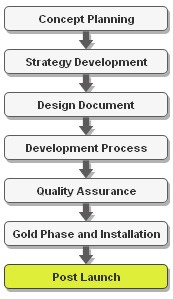 Post Launch Bouquet of Services

N&D does more than launch products, A bouquet of services post-launch to help clients optimize their success. These services are available for both websites and advertising.

Websites: Completing a web project is not the end of N&D's relationship with the client. Necessary follow-up services for websites post-launch which helps clients maximize their benefits from the project are offered. This includes Training the Client's IT/MIS Personnel, Web Marketing, Promotion and Maintenance.

Advertising: The effectiveness of advertising needs to be measured to see if it's functioning as well as expected. N&D offers both Feedback Analysis and Response analysis reports after the launch of conventional advertisements. Feedback Analysis factors like the reach, success and awareness generated by the campaign. Response Analysis on the other hand is a concise report that shows the initial position and the successful increase in placement thereafter.